There is no need to go far!
When you are staying at Rukararwe there are various possibilities to experience and enjoy unspoiled nature. Why don't you take a walk through our Demonstration forest, take some time for bird watching or climb the Irembezi hills for a magnificent view of the surroundings? Experience nature and culture on Rukararwe Compound and in the surrounding areas. Here you can find the real Uganda, not in big hotels and tourist attractions which are far away from the local people and their normal life. And even far from the normal nature and the typical surrounding.
Cultural Tours
Workshop with women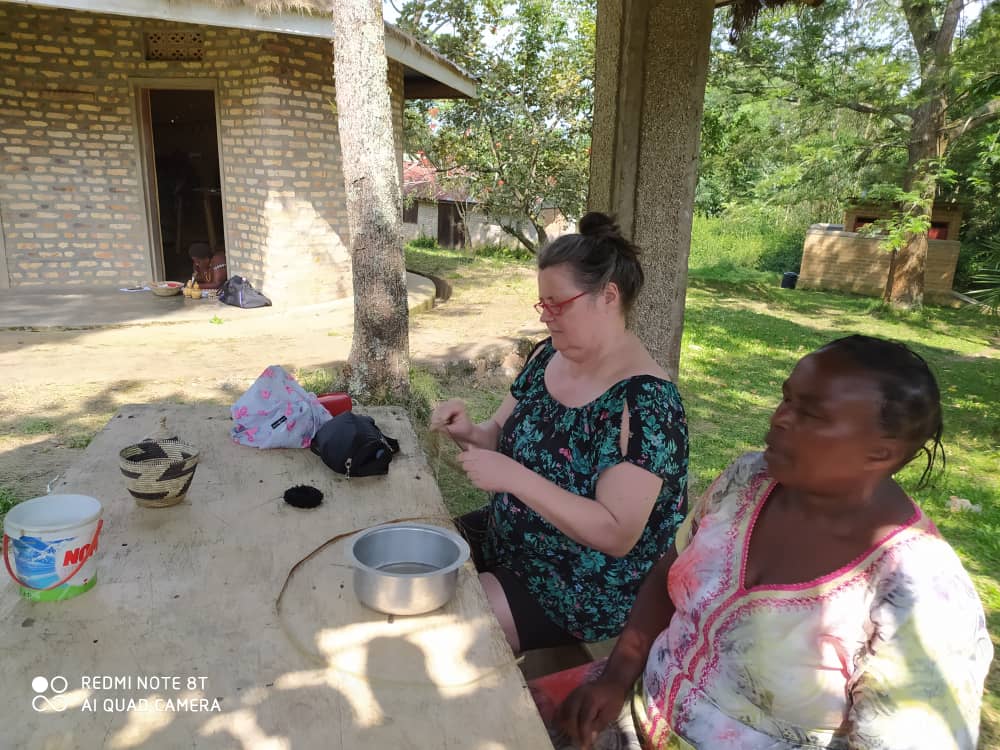 Meet the women group and learn about the part of Ugandan culture which is most interesting for you. Is this dancing, drumming, making typical Ugandan crafts or cooking local food? Whatever you choose you will be able to do it on your own at the end of the day.
Time: 3 hrs. 
Projects of the Youth Group
Get to know the projects of the Youth Group which include Energy Saving Stoves, Earth Brick Technology and Solar Energy.

Time: 1 hr.
Banana Tour
Get to know about banana plantations and the way they are operated in Uganda. You will visit the plantation of a farmer close to Rukararwe and get to know every step from clearing the land and planting up to harvesting. Find out which different species there are and learn about their use in practices such as juice, beer and gin making.

Time: 2,5 hrs.
Family Visit
Dip into the African lifestyle and get to know Ugandan hospitality. Visit a family and have a conversation with them while enjoying fresh milk tea with typical snacks at their home.

Time: 2 hrs.
Visiting Progressive Farmers
Learn more about the farmers live (maintaining the field, animal rearing, milking a cow and fetching water), see the processing of tea, honey and wine. Enjoy a typical tea break at the farmer's home.
Time: 2 hrs.
Visit Igara tea factory
 

See the whole process of a large scale tea factory that produces 3,000 tonnes of black tea each year. Experience everything from growing the tea to packaging and then tasting it for yourself in the enclosed tea shop and café.

Time: 2 hrs.
Learn about Traditional Medicine
Get to know different species of medicinal plants and how to harvest and prepare them to get traditional herbal medicine like creams and powders. Visit Rukararwes own herbal gardens. The medicine centre on Rukararwe grounds is the only governmentally approved health centre that is working with herbs.

Time: 2 hrs.
Get a massage using Traditional Medicine
If you wish to get some wellness you can connect to our herbal medicine centre to receive a herbal massage by our healer. You will be pampered with an herbal cream to soften the tissue.
Time: 1-2 hrs.
Kitagata hot springs
The hot spring is located in the swamps and a holy place in the old Ankole culture. Even today people are coming here to bathe and believe that the hot water can cure some diseases, especially those of skin as well as some kinds of pain. This hot spring is one of the most beautiful and most fascinating places in the whole area. For a small amount of money, you can look around, test out the water for yourself and listen to what can be told about this very special place.

Time: 0,5 – 1 hr.
Kizinda market
The market in Kizinda is one of the biggest markets in the surrounding area. It is just taking place two times a month but for two days from Sunday to Monday to give everybody enough time to look around, find exactly what is wanted and buy whatever is needed.
Time: 2-3 hrs.
Nyakabirizi market

The market in Nyakabirizi takes place every Wednesday. The people from the surrounding areas are all coming to a free space in the middle of town to buy or sell food, clothes, fabrics, kitchenware and everything else they may need. Enjoy the day with pancakes, some pork or an evening in a bar. Visit the market to experience this weekly event on your own, see the classical processes on a market and take part in it. You will find full market stalls as well as unique customer care and bargaining culture. All of this is even within a walkable distance so that it is up to you if you want to take the car or your own feet using some shortcuts.
Time: 3 hrs.
Kabagarame
The pork market of Kabagarame takes place every Saturday. It is a place to go out and have fun with friends or associate with new people while eating some pork and drinking some beer. People are also selling other drinks and snacks. The place is surrounded by small kitchens where you can choose your pork at the most suitable one and wait in one of the traditional huts in the inner circle which are working as dining rooms or you enjoy outside on the grass area in the middle. You will be served on a big plate to eat with your fingers, but don't worry there are enough opportunities to clean your hands very well. Pork is one of the specialities of the Western region.
Time: 2-3 hrs.
Ishaka Daily Market
See a Ugandan food market in Ishaka. Look around the place full of fruits, vegetables and even fish. Find something new and taste it if you want or just enjoy the place with its unique atmosphere.
Time: 1 hr.
Shopping tour Bushenyi / Ishaka
Experience the town of Bushenyi or Ishaka. See the small supermarkets where you find everything you need in a small room, look around and see even more things. Visit the small tailoring shops where you will find African fabrics and tailors, who are normally able to make new clothes with your measurements within one day only. Finally take part in bargaining if you want to try to get a good price, of course, our staff can support you in finding out what a good price is.
Time: 2 hrs.
Visit of a Primary School
Experience the Ugandan learning Atmosphere at Nyamiko primary school, meet the pupils and find out about their school life.

Time: 1 hr.
Visiting Rwanshetsya Orphanage
Be welcomed by the Rwanshetsya Orphanage children with their dances and songs. Here you can share some time and a meal with them.

Time: 1 hr.
Nature Tours
Irembezi Hills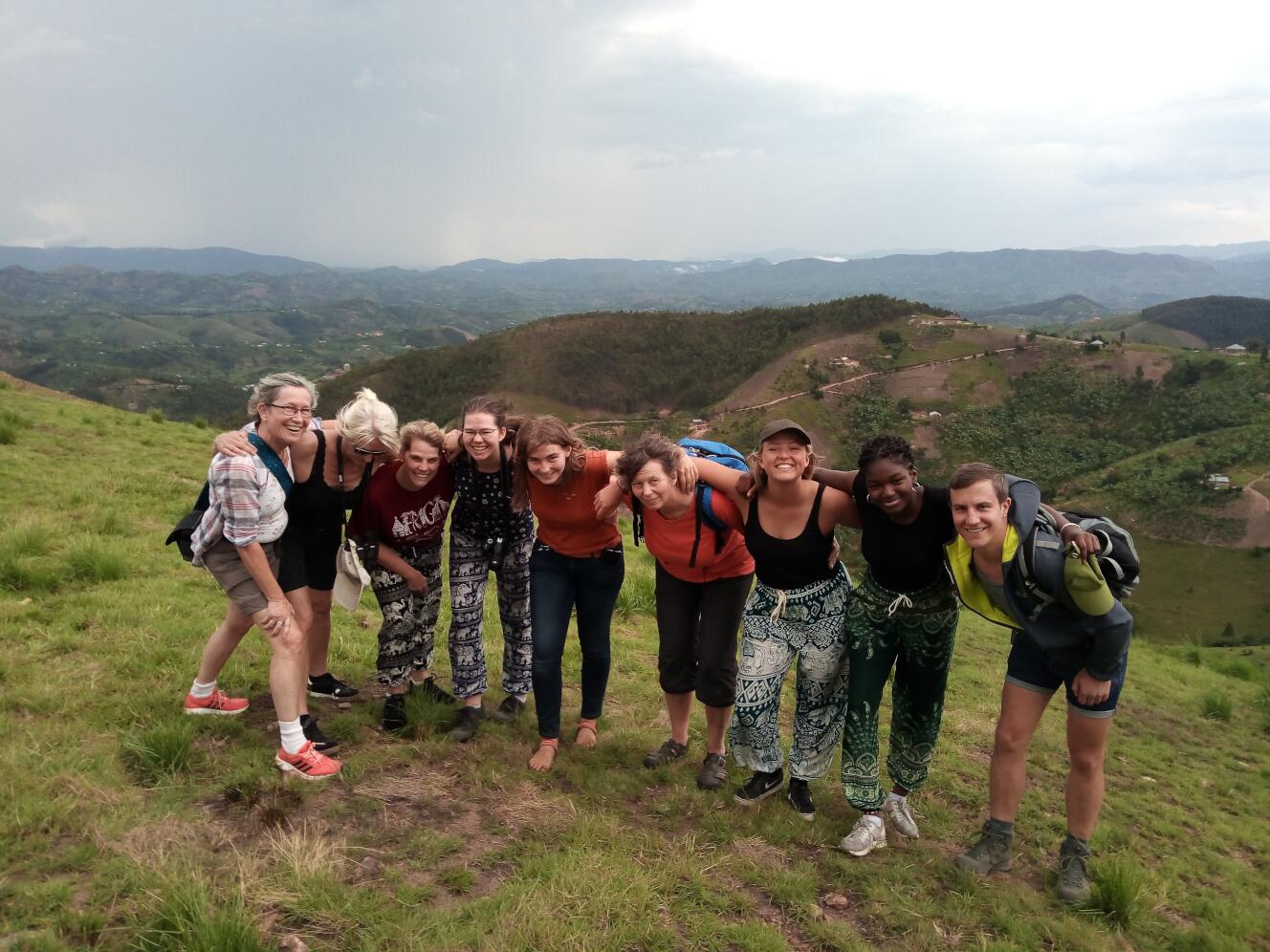 The Irembezi hills are just 30 minutes on foot from Rukararwe, from their top you will have a great view of the surrounding area. On one side you will find Busenyi, Ishaka and some villages, on the other the fantastic landscape of Irembezi, you can even see the Rwenzori mountains, the mountain range with the biggest area in Africa. In this scenery, you will get to know some cultural stories from the Ankole culture and take a walk up to great viewpoints and traditionally important places.
Time: 3,5 hrs
Twin Lakes & Cave
The twin lakes are for sure one of the most mysterious nature sights in Uganda – we would say even the most mysterious one you have seen up to now. There are two lakes with nearly equal size and shape just separated by a small land bridge where the road passes, but the colours are totally different due to their different inhabitants. We are also going to visit a small lodge at the shores of the green lake to enter a cave and hear about its changing historical use and enjoy the great nature around while walking through narrow passes in the tropical vegetation.
Time: 4-5 hrs.
Crater Lake Hike
The area of Fort Portal has more than 40 crater lakes placed in beautiful scenery. This offers one of the best opportunities for hiking in Uganda where you pass through nature and the typical agricultural areas of the region having great views on the lakes and hills. Walk through the unforgettable beauty of the pearl of Africa.
Time: 4-5 hrs.
Forest Walk
Uganda's forests have suffered greatly since the beginning of the 20th century, mainly due to excessive logging, firewood collection, expansion of agricultural land for the growing population and industry, as well as overgrazing. Rukararwe PWRD tries to make sure that the local people get to know about the dangers of deforestation and provides a great example with its own demonstration forest. The forest has different species like medicinal trees, in order to promote our traditional medicines and fruit trees to attract beautiful birds. With this variety of indigenous trees, it strives to be as close to a natural forest as possible.

Find out the importance of natural forests and indigenous plants. You can also learn how to sustain them through propagation and planting in our own nursery bed. Also, enjoy watching and hearing various types of birds and learning about their lifestyle.

Time: 2 hrs.
Tree Planting
As a highlight, you will not only observe propagation methods, but you will also be able to plant your very own tree and make a signpost for it. This opportunity is available to you independently from the forest walk.

Time: 0,5 hrs.
Campfire
Enjoy a cosy evening at the campfire with typical snacks (e.g. roasted bananas) and stories about Uganda.
Time: 1,5 hrs. up to unlimited
Bird watching
One of the special activities you can do at Rukararwe is bird watching! It can be done with the naked eye, through a visual enhancement device like binoculars and telescopes or even by listening for bird sounds, which are not only the usual chirping sounds.
Rukararwe and the surrounding area are home to many African bird species due to their unspoiled nature. Get an opportunity to track all these birds directly on the Rukararwe premises. The home district "Bushenyi" where Rukararwe is located, records one of the highest occurrences of crusted cranes in the whole of Uganda. Get fascinated by the elegance of these special birds. Have you known that catching, hurting or killing a crusted crane has the same punishment as doing the same crime to a human?

 Time: always possible