Rukararwe is the perfect starting point to explore the beautiful nature of southwestern Uganda. If you wish, we can come and get you directly from the airport in Entebbe and take you to our holiday paradise!
Take part in our many cultural offers to experience our culture for yourself and get to know the real, authentic Uganda. We can also take you on a walk to the Irembezi Hills for a magnificent view of the surrounding area. And even if you want to stay close by, even on the Rukararwe Compound, there are two hectares of natural forest with great possibilities to observe hundreds of different bird species.
Or you can enjoy safari tours to Queen Elizabeth National Park, Kazinga Channel, Kalinzu Rainforest, Kitagata Hot Springs, Lake Mburo National Park or even to Kibaale forest close to Fort Portal, to Lake Bunyonyi near Kabale or to Bwindi Impenetrable forest to meet the mountain Gorillas. 
Rukararwe offers absolute silence and a relaxing environment for holidaymakers, backpackers, nature lovers and adventurists. The only noise that you will hear are birds like the national animal the crested crane. The stay in nature truly is a holiday paradise. Rukararwe is located about 4.6 kilometres away from Bushenyi town in Bushenyi district in the middle of the green hills of the rural area in the western part of Uganda. It has an amazing overview of the whole surrounding and the hilly shaped landscape. Even the way to Rukararwe will give you a taste of the beauty in which you will spend your holiday.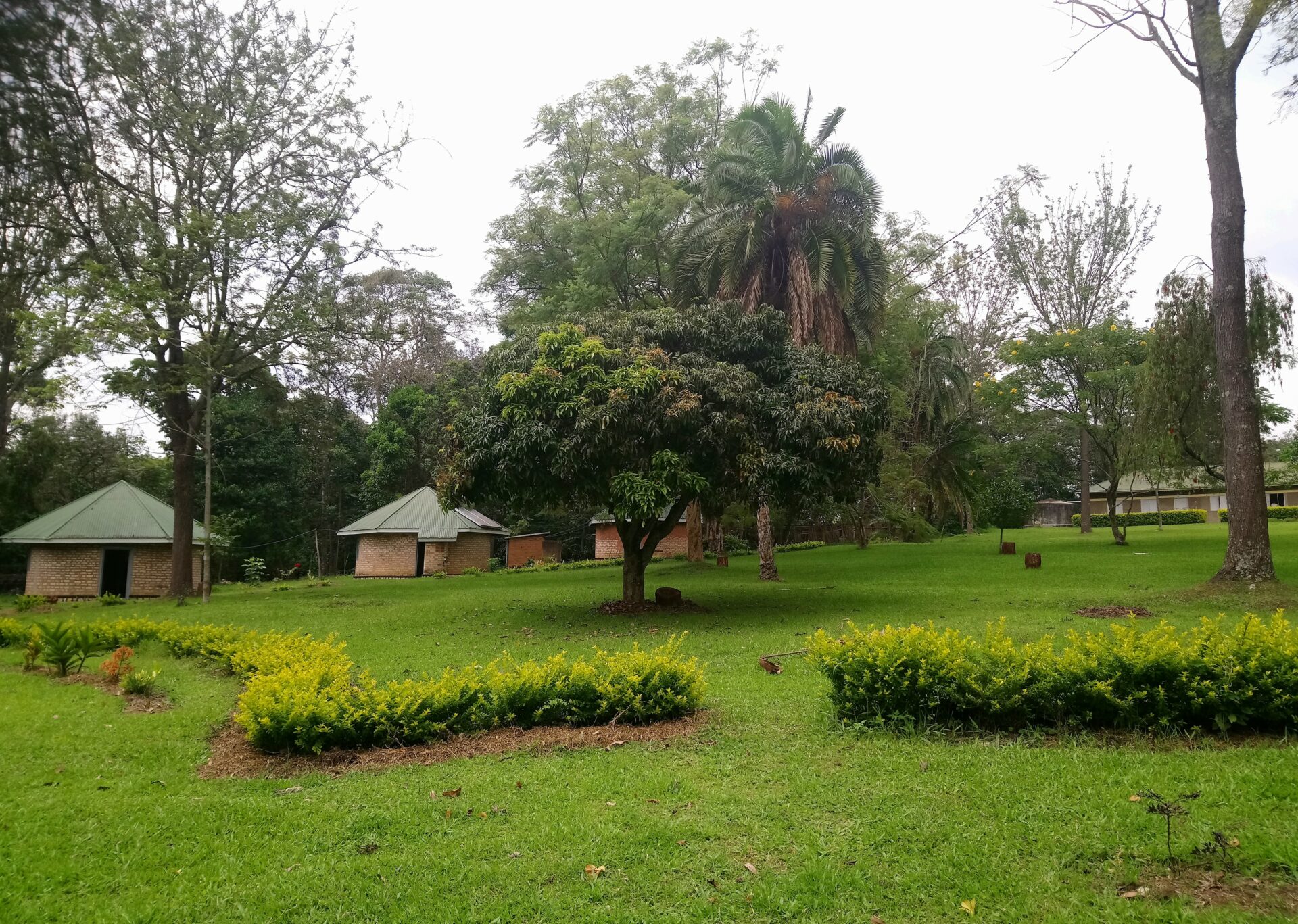 The extensive compound of Rukararwe is tastefully arranged with trees and green grasses. There are numerous places to relax including the Rukararwe man-made forest. This combination of beauty and relaxation is exemplified in the very well designed, decorated and well-equipped huts, which provide your accommodation. They are equipped in a simple traditionally African style. Get impressed by the idyll and let your holiday become an unforgettable African adventure with Rukararwe Eco-travel.
The African experience is continued by our restaurant and a well-stocked bar. Get the taste of local African dishes which will make your experience in Uganda unforgettable. You will also have the opportunity to try some of the milk and Honey for which the west of Uganda is famous.
One of the special activities you can do at Rukararwe is bird watching! Rukararwe and the surrounding area are the home of many African bird species due to their unspoiled nature. Track all these birds directly on the Rukararwe premises. The district Bushenyi where Rukararwe is located records one of the highest occurrences of crusted cranes, Uganda's national animal, in whole Uganda. Get fascinated by the elegance of these birds.
Rukararwe is also characterised by a good connection to the surrounding societies so that we offer cultural programs and can organise a visit of a local family. This gives you the chance to come in contact with locals and experience the hospitality of these people and talk with them about their life.
If you want to go further we also offer well-organised tours to the great national parks of Uganda such as Queen Elisabeth or Lake Mburo. Our drivers are trained in finding the animals due to a game drive and can tell you a lot about them. Get impressed by the country, its very own scenery and its natural beauty in the parks.
The eco-travel is the main source of income for Rukararwe to gain independence from European donations. Nowadays it is an activity in which we have a lot of praxis so that our friendly team will create an unforgettable time for you while you are supporting our project work. Telling you that we are good is easy – if you want to check on this claim you can check on the assessments on our TripAdvisor page.